Drivers test new training course instead of points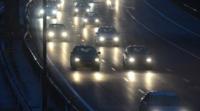 Thousands of motorists are paying to go on a new type of driver training course after being caught breaking the law.
People stopped for doing things like using a mobile phone at the wheel, lane hogging and tailgating are being given a choice.
They can pay a fine, usually around £60, and have penalty points put on their licence.
Or they can pay slightly more, around £80, to go on the course for three hours to learn safer driving skills.
Since two new courses started in April for drivers caught carrying out those offences nearly 9,000 people have been on them.
At the moment they're being trialled by around a dozen police forces across England although more are expected to start using them in the next few months.
The courses can be used in Scotland, Wales and Northern Ireland but only if the authorities there ask for them.
Tom Jamieson decided to go on the What's Driving Us course in Leyland, Lancashire, after being stopped by the police for using his mobile while speeding without his seatbelt on.
"Insurance is bad enough as it is and it would have doubled or even tripled if I'd have got the points," he said.
"I thought it was going be a waste of my time but they [the course instructors] just give you a different outlook on everything.
"It's better than I thought it was going to be."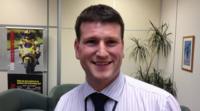 Road safety and motoring groups say they support driver training courses over punishment.
But critics are worried that with a share of the course fee going to the police it could encourage officers to stop more people for minor offences.
Stephen Rose, a course instructor, said: "People who come on these courses have been through red light offences, mobile phone use [is] quite a big one, tailgating and things like lane hogging.
"You are four times more likely to crash if you use a mobile phone while driving.
"The ultimate aim is to make people think differently and make them safer drivers out there on the road."