Malcolm in the Middle's Frankie Muniz has 'mini-stroke'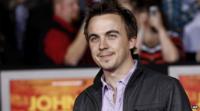 Frankie Muniz, who played the lead in US sitcom Malcolm in the Middle, says he has suffered a mini-stroke.
Posting on his Twitter account, he said: "I was in the hospital last Friday. I suffered a 'Mini Stroke', which was not fun at all. Have to start taking care of my body! Getting old!"
The 27-year-old starred in the sitcom about a genius teenager in a dysfunctional family from 2000 to 2006.
He is now said to be waiting for the results of medical tests.
Showbiz website TMZ reports that the actor's friends became worried after he started having trouble speaking and understanding words.
A mini-stroke, or transient ischaemic attack (TIA), is caused by a temporary disruption in the blood supply to part of the brain.
Symptoms can be similar to a stroke, for example problems with speech and vision, but only last for a few minutes and are usually gone within 24 hours.
The actor's career since 2006 hasn't matched the success of Malcolm in the Middle, which ran for more than 150 episodes.
In recent years he's competed in car racing series in the US and also plays the drums in a band called Kingsfoil.