Autumn statement: More pain needed to fix economy
Chancellor George Osborne has told MPs that it will take longer to fix the economy than ministers earlier predicted.
His autumn statement has called for extra spending cuts and tax rises lasting until 2018.
A 3p per litre rise in petrol duty has been cancelled for January and child benefit is to rise by 1% for two years from April 2014.
Most working-age benefits are to rise by 1% for each of next three years.
George Osborne has also admitted he will miss his own target for reducing the national debt but says his plan for the future is the right one.
Read the key points from this year's Autumn statement
For thousands of people like Susie Barsby, 21, from Bristol, it's another sign that hard times are here to stay.
She told Newsbeat: "In April I lost my job in a beauty salon.
"They just couldn't afford to pay me any more.
"Since then I've had to try to find different ways to provide for us."
Susie was 15 in 2007 when it first became clear that the economy was crashing.
According to latest predictions, she'll be nearly double that age by the time things are back on track.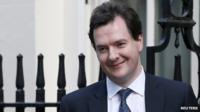 Now, she holds down a part-time bar job, runs her own beauty therapy business, and is a single mum to three-year-old Annabella.
She gets some support from benefits but says trying to make ends meet from week to week is "a constant worry".
Pointing to her daughter, she adds, "It's scary to think she's going to be growing up with it as well".
Recently, Susie bought Annabella a new coat, a hat and winter shoes, which she says amounted to three weeks worth of groceries.
She struggles to pay her rent each month and keep up with rising grocery prices and bills.
She expects life to get harder still in years to come, when her benefits entitlements will be cut or further frozen.
"It means we've got to cut down on Christmas," she says.
"We're buying very small things and making cards to cut back."
'It's crazy'
Many observers believe that a slower-than-expected recovery, as well as the effects of problems in countries that use the euro, mean austerity measures of cutting spending and increasing taxes are needed for another six years.
Three-year-old Annabella will be nine in 2018, when austerity measures will now end.
"That's crazy," says Susie. "And what then?
"The world will probably still be in recession, Greece will probably be gone and the euro probably won't be worth anything.
"What have [children her age] got to look forward to, for their future? It's crazy."