Avoid fake gifts this Christmas, advises Border Force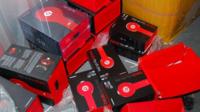 The Border Force is warning shoppers to avoid counterfeit gifts this Christmas.
Thousands of popular items including sheepskin boots, perfume and headphones are being shipped in every week that aim to rip off famous brands.
While people may be happy with a cheap fake, Border Force senior officer Kevin Sayer says consumers should be wary.
"It's easy to be tricked into thinking you're getting a bargain, but if something appears too good to be true it probably is," he said.
A big haul of imitation Beats By Dre headphones were found last week as part of a raid in Birmingham.
They were among the CDs and DVDs found in the seizure - thought to have a combined retail value of £10m.
Music industry organisation the BPI took part in the operation and their head of anti-piracy, David Wood, says that fakes cause big losses for record companies.
"The record industry loses approximately £100m a year due to the sale of counterfeit discs," he said.
"However these fakes simply fund organised crime gangs and defraud not only the legitimate music industry but the government as well."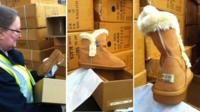 Meanwhile, Kevin Sayer's team at Felixstowe recently seized thousands of pairs of winter boots that ripped off a more famous, high-end brand.
A similar shipment of real boots would have been worth close to £1m.
While Sayer appreciates that people, especially those on a limited budget, may not be able to afford to buy the real products, he still thinks that people should not purchase counterfeit items.
"The fact is it's highly likely that a few weeks after you've bought [the boots], the sole will come away from the side," he said.
"You might have saved yourself £60, £70, £80 but you've wasted ultimately £30 in buying it because you can't use it.
"If you give that as a present to your aunt or your mum, they think you're a cheap skate because you can't be bothered to spend the proper money on them."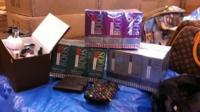 Border Force tips for avoiding counterfeit goods
Check the price against what you are being offered. If it seems too good to be true, then it probably is.
Smell the product. Fake perfume may well not have the correct scent, while counterfeit footwear could have a strong smell of solvents where the manufacturer has used cheap glue.
Inspect the packaging. Are the words spelt correctly and do the logos look right?
Do the tags match the product? If you have a smartphone, use a scanner app to see if the barcode is real and corresponds with the product online.
Assess the quality and ask yourself if it is up to the standard that a major company would offer.