Sonisphere rock festival confirms return for 2013
4 December 2012

From the section

Music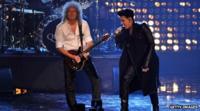 The organisers of Sonisphere say the rock festival will be back in 2013.
The event, which was due to take place at Knebworth Park, Stevenage in July, was called off in March.
Stuart Galbraith, CEO of Kilimanjaro Live, said: "We're working on a bill now, hopefully to announce before Christmas. Cancelling it last year was a hiccup."
Speaking at the UK Festival Conference, Galbraith admitted that they spent too long working on the bill for 2012.
Announcing their line-up in February was "too late", he added.
A statement from organisers released in March said they'd fought hard to keep the festival on but that "a very challenging year" meant the event wouldn't have satisfied fans and the artists.
Adam Lambert was due to headline on Saturday with members of Queen.
Evanescence, Marilyn Manson, Cypress Hill, The Blackout and Faith No More were also on the line-up.
Ticket holders were given a refund.
Sonisphere also tours throughout Europe.
The festival has already confirmed it will visit Italy and France in 2013.