Tonnes of 'ugly' produce sold as supermarkets relax rules
3 December 2012

From the section

Politics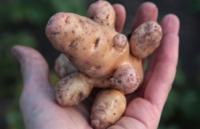 Almost 300,000 tonnes of misshapen fruit and vegetables have made it into shops this year, according to the National Farmers Union (NFU).
The NFU says bad weather has led to supermarkets relaxing the normal strict rules around the appearance of produce that makes it onto shelves.
The European Union changed rules around misshapen produce in 2009.
The NFU says the amount of imperfect fruit and vegetables sold this year would fill 2,500 jumbo jets.
'Wasted fruit'
The organisation's chief horticulture and potato adviser Hayley Campbell-Gibbons said: "Nobody wants consumers to compromise on quality, but just because a carrot is bent, it's perfectly useable, can offer great value and reduces wastage in the food chain.
"Let's hope that retailers carry on with this sensible approach to sourcing so that more of the food we produce in Britain can actually make it onto the shelf."
There were warnings earlier in the year about a poor harvest after storms, frost and heavy rain left many crops struggling to grow properly.
Fruit farmers were particularly badly hit with some growers losing up to 65% of their crop.
Ali Capper, from Worcestershire, said she had benefitted from changes applied to apple colour and skin finish.
"It's reassuring that retailers have recognised what a challenging year it has been for growing tree fruit throughout Europe," she said.
"Supply is very short so a sensible approach to specifications that allows more perfectly edible fruit through supermarket doors is welcomed.
"This more relaxed approach could be extended into future years to ensure that the minimum amount of fruit is wasted at farm level."
Supermarket produce appearance rules could return next year.
Strict standards also remain in place across the EU for 10 of the most popular types of fruit and vegetables including apples, lettuces, strawberries and tomatoes although stores can choose to label them.
Standards for 26 other types of produce were scrapped in July 2009.
Have your say on Newsbeat's Facebook page
Matt says: "Supermarkets are a business, the majority of shoppers wouldn't buy that potato. So as a "business" it's really wise to buy veg they can't guarantee they can sell?"
Heather says: "Finally! It's about time they stopped throwing this stuff away just because it doesn't look pretty."
Adam says: "You would be surprised the number of picky people who won't buy something because of its look. I used to work in a supermarket and you see so much perfectly fine food getting passed over."