Katy Perry's ex Johnny Lewis 'was sober' when he died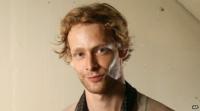 Actor Johnny Lewis, an ex-boyfriend of Katy Perry, wasn't on drugs when he fell to his death, says his autopsy.
The 28-year-old, who appeared in Sons of Anarchy and The O.C., is believed to have killed his landlady and died while trying to escape her home.
No drugs or medication were found in his system, but nail marks and signs of strangulation were found on his neck.
The actor had a criminal record and earlier this year was treated for drug, alcohol and psychiatric problems.
Los Angeles police believe Lewis killed Catherine Davis, 81, during the incident in September.
Neighbours reported hearing a woman's screams and told officers that a man had jumped a fence, assaulted a painter and homeowner and jumped back.
Lewis died on the driveway of the property, but his death has been ruled accidental as there was no evidence that he was pushed or tried to kill himself.
'Concerned'
The actor had been arrested three times in the year before his death.
A probation report, prepared after he attempted to break in to a house, said officers were "very concerned for the well-being of not only the community but that of the defendant".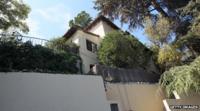 Lewis was best known for playing Kip 'Half Sack' Epps in the biker TV show, Sons of Anarchy.
He also appeared in nine episodes of teen drama The O.C. in 2005 and 2006.
More prominent film roles included a part in film Aliens vs Predator - Requiem in 2007 and the 2010 movie The Runaways starring Kristen Stewart.
The actor, whose full name was Jonathan Kendrick Lewis, was romantically linked with Katy Perry from 2006 for about 18 months.
It's thought two of her songs, The One That Got Away and Circle the Drain, were inspired by him.