Freddie Flintoff: Boxing training too hard for 'stunt'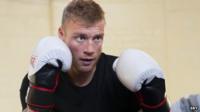 Freddie Flintoff is due to make his debut as a boxer on Friday night (30 November) having decided to turn professional a few months ago.
Critics have said that it is unfair that he was granted a licence to fight after relatively little time training.
He says he has gone through the same assessments by the British Boxing Board of Control (BBBC) as everyone else.
"Everyone goes through the process of applying and being evaluated and that's what I've gone through," he said.
He is due to compete against a relative newcomer.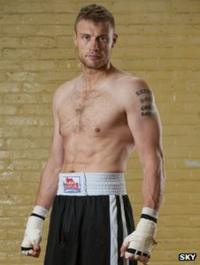 Richard Dawson, 23, is from Oklahoma and has two previous fights to his name.
The pair will box for three rounds.
Flintoff denies that he is just trying to attract media attention and says he has been taking it seriously.
"If I was going to pick a stunt I'd do something a bit easier," he said. "It's been so hard.
"I know people will criticise and people have opinions but I've not got the energy to worry about that."
Despite his professional inexperience, Flintoff says he is not thinking about the possibility that he may lose.
"I don't think you should fear failure, you go out there with a positive attitude."
Flintoff fronts advertising campaigns and television programmes but claims that he is not concerned about his appearance after the fight.
"I've never worried too much about my looks," he said. "My nose has changed shape a bit and my lips are a bit bigger but hopefully tomorrow I come out of it all right."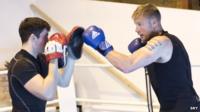 Newsbeat's Facebook users' questions
Anne Jones asked: "He can't play cricket because of injuries, isn't boxing even tougher on your knees?"
"Training has been tailored to strengthen my knee," said Flintoff. "It's not felt this good in years."
Kerry Lea Jones wanted to know if he was "finding it hard to give up the unhealthy stuff" in his diet.
"That's been hard," he said. "When you're paying for your petrol and you walk past the pick and mix.
"I've had to commit to it because you want to go in the ring knowing you've done everything you possibly can."
"What do you think your chances are?" asked Alan Sutherland.
"I'm a sportsman, competitive and I'm going in there to win," he said.
Freddie Flintoff's fight will be screened on Box Nation on Friday 30 November. A documentary on Sky will follow in the next couple of weeks.