X Factor winner's single proceeds to children's charity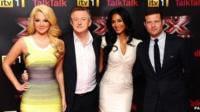 The single released by this year's winner of The X Factor will also be this year's charity song, raising money for a children's charity.
In previous years a separate track has been recorded by the finalists as a charity single.
The song, which has yet to be announced, will be performed by the last two acts in the competition before being released after the winner is revealed, as usual.
Syco will donate 100% of the profits.
That is thought to amount to about 20p for each download and £1 for each CD purchased.
The charity which will benefit is called Together for Short Lives, which provides support for children with life-threatening illnesses and their families.
They were also the recipients of last year's charity single profits, when the finalists joined One Direction and JLS to sing Wishing on a Star.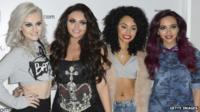 Simon Cowell says the charity is "inspiring and important" in its work for kids.
"These hospices are really happy and positive places and are a complete lifeline for so many families," he said.
"Having worked with this charity for many years I have been able to see first hand how they have impacted so many lives and I'm delighted that The X Factor's winner single sales will go directly to helping them."
Barbara Gelb, CEO of the charity, says they are "delighted" to have been chosen.
She said: "We work with the specialist services that care for these children and families, including children's hospices, and every single bought will make a huge difference.
"These services are a real lifeline and your money will help to support families with the challenges of daily life so children and families make the most of their precious time together."
The X Factor final is being held earlier than usual this year with the winner being announced more than a fortnight before Christmas on 9 December.
It has been reported that the TV show is taking itself out of the running for Christmas number one after the Military Wives Choir beat Little Mix last year.