Patrick Stewart and Ian McKellen rejoin next X-Men film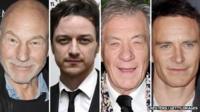 The director of the next X-Men film has announced that Patrick Stewart and Ian McKellen will be back in the cast.
Due in 2014, X-Men: Days of Future Past will also see The Hunger Games star Jennifer Lawrence and British actor Nicholas Hoult back in the franchise.
James McAvoy and Michael Fassbender are also rejoining the movie.
Commenting that he was "thrilled" to see the return of Stewart and McKellen, Bryan Singer also tweeted that there were "more [announcements] to come".
This will be the seventh X-Men film.
There have been three movies in the main trilogy, beginning in 2000, as well as X-Men: First Class in 2011, which started the most recent series of the same name.
There are two installments featuring Wolverine, one of which is released in 2013.
Patrick Stewart is known for playing Professor X, except for in X-Men: First Class where this role was taken by James McAvoy.
Similarly Michael Fassbender and Ian McKellen have both played Magneto.
Stewart and McKellen will play the older versions of these characters.
The X-Men films are thought to have taken more than $2bn (£1.25bn) worldwide.