Minaj calls ex-American Idol judge Steven Tyler racist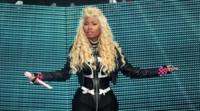 Nicki Minaj has accused ex-American Idol judge and Aerosmith front man Steven Tyler of being racist.
The rapper's comments appeared on her Twitter feed following an interview he gave to MTV.
"Steven Tyler said I would have sent Bob Dylan to a cornfield? You haven't seen me judge one single solitary contestant yet!
"I understand you really wanted to keep your job but... I haven't done anything to you. That's a racist comment."
Along with Mariah Carey, Nicki Minaj was hired as a new judge for the latest series of American Idol.
Controversy
The pair replaced Jennifer Lopez and Steve Tyler, who had acted as judges on the talent show for the previous two series.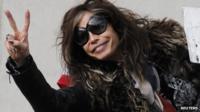 Her Twitter comments continued: "You assume that I wouldn't have liked Bob Dylan??? why? black? rapper? what? worry about yourself babe."
Steven Tyler was asked about the row while appearing on Canadian TV show eTalk on Tuesday (November 27) and admitted that he did not choose his words wisely.
"I apologise if it was taken wrong, Nicki. But I am the farthest from [being a racist]," the star stressed.
"I am the last thing on this planet as far as being a racist."
The Aerosmith singer served as a judge on American Idol for two seasons in 2011 and 2012, but exited the show in the summer.
It's not the first time Nicki Minaj has been involved in controversy regarding the show.
It was announced this summer that she and Mariah Carey were joining the judging panel, there were reports that the pair did not get on.
One recording session apparently had to be stopped because of a row.