Beyonce to direct and star in documentary about herself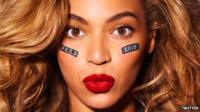 Beyonce is going to direct and star in a film she is making about her life as a pop star.
The singer will give fans a chance to see what her life is like with rapper Jay-Z as well as following her in to the recording studio.
The film will be on American television channel HBO on 16 February 2013.
"Everybody knows Beyonce's music, but few know Beyonce the person," says HBO Programming President Michael Lombardo in a statement.
"Along with electrifying footage of Beyonce on stage, this unique special looks beyond the glamour to reveal a vibrant, vulnerable, unforgettable woman."
Super Bowl
Beyonce gave birth to her first daughter Blue Ivy earlier this year and the documentary promises a chance to see how she is getting on with motherhood.
Some of these behind the scenes moments will have been captured by Beyonce herself, on her laptop.
The as yet untitled documentary is also thought to feature Beyonce's preparations for live shows and her running her production company.
She is due to perform at the Super Bowl half time show on 3 February, less than a fortnight before the documentary airs.