Radio 1's Greg James to broadcast show from Afghanistan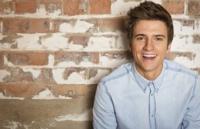 Radio 1's Greg James is to host his afternoon show from Afghanistan for five days from Monday 10 December.
The DJ will broadcast from Camp Bastion where he'll follow serving soldiers and deliver Christmas messages for UK troops.
His show is from 4-7pm every day and will be run with the help of British Forces Broadcasting Service (BFBS).
"I'm excited to be bringing Radio 1 to the troops and show them we appreciate their hard work," said Greg James.
"I love a challenge and an adventure and this will be a brilliant opportunity to see how BFBS and Camp Bastion works.
"Trust my luck that Daniel Craig went out there last week - it's not the easiest gig to follow James Bond, is it?"
Radio 1 and 1Xtra DJ Tim Westwood broadcast live from Afghanistan last year and BFBS presenters Richard Hatch and Jessie Aru also anchored segments live on Radio 1 in 2010 from Camp Bastion.
Rhys Hughes, head of programmes for BBC Radio 1 and BBC Radio 1Xtra, said: "Our ambition is that BBC Radio 1 with Greg James will reflect what it feels like for our armed forces personnel to live and work in Camp Bastion.
"We are delighted to be returning to Camp Bastion for a third year, working very closely with our friends at BFBS to connect Service personnel with their families back in the UK and around the world."