Justin Bieber and Carly Rae Jepsen booed at sports final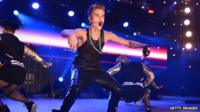 Justin Bieber has been booed at a Canadian football final in Toronto.
The star was jeered along with fellow Canadian singer Carly Rae Jepsen at half-time as the pair were about to perform for the crowd.
They were also booed as the stadium announcer introduced the pair and it continued as Justin Bieber sang a medley of his hits, which included Boyfriend and Beauty and a Beat.
"Thank you so much Canada," Justin Bieber told the crowd. "I love you."
The Grey Cup is the championship game of the Canadian Football League (CFL), a form of gridiron closely related to American football.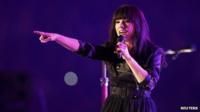 Earlier in the week, 18-year-old Justin Bieber was presented with a diamond jubilee medal by Canada's Prime Minister Stephen Harper.
He was criticised by some Canadian football fans after wearing overalls, unbuttoned on one shoulder, a white T-shirt and a backwards baseball cap.
Stephen Harper wrote on Twitter: "In fairness to [Bieber], I told him I would be wearing my overalls too."
Former Grey Cup half-time performers have included guitar bands such as Nickelback and Lenny Kravitz.
Carly Rae Jepsen, 27, received a mixed reaction to start with but managed to win the crowd over during a medley of her latest single, This Kiss, and her worldwide hit Call Me Maybe.