Ricky Hatton says he will retire if he loses comeback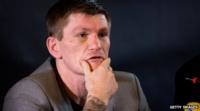 Ricky Hatton says if gets beaten in the ring against Vyacheslav Senchenko he "will retire".
The former world champion is back after a three-and-a-half years away from boxing.
"I'm feeling absolutely fantastic, training has gone brilliantly, I have no injuries," the 34-year-old said. "I couldn't be in a more positive frame of mind.
"I could have picked an easier fight for my first one back though."
His opponent, former world champion Ukrainian Vyacheslav Senchenko, didn't turn up to the pre-fight press conference in Manchester.
"It's probably mind games, but I'm not going to let it get to me," Ricky Hatton said.
'A new me'
The boxer last fought in May 2009, when he was knocked out by Manny Pacquiao in two rounds.
In September, Hatton announced he was coming out of retirement after a period of depression and substance abuse.
"I couldn't be feeling better about tomorrow," he revealed.
"It's been well documented about my substance abuse and that I tried to take my own life, but that is all in the past.
"This is a new Ricky Hatton. I have a smile on my face and a spring in my step. I feel like I have already won and I haven't been in the ring yet."
Some critics questioned his return but Ricky Hatton claimed he would return a better fighter.
"I'm coming back to redeem myself," he said.
When asked if he would retire if he didn't win the bout, he revealed that he would.
"If I get beat or even if I struggle through then I will take a look at myself and admit maybe this game isn't for me," he said.
"But if I think I'm going to do how I think I'm going to do, then I'll be saying, 'Well done Ricky there is another world title in you."'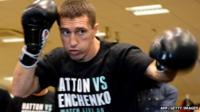 Listen to live commentary on BBC Radio 5 live from 10pm, live text commentary on BBC Sport website.