'Moped cars' for 16-year-olds coming to the UK
In the new year, 16-year-olds will be able to legally drive some cars on the UK's roads.
A new category of moped licence is being introduced on 19 January 2013.
It will allow people aged 16 and over to drive so-called 'light quadricycles'.
Already popular in many European countries, the vehicles look and drive like a car, but are no more powerful than a moped and aren't allowed to go faster than 28mph (45km/h).
But road safety campaigners say they're worried teenagers will only have to pass a test on a moped to drive one.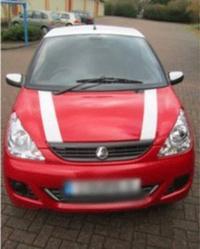 One of the UK's first light quadricycles is being launched at at the Motorcycle Live show in Birmingham, which starts on Saturday (24 November).
The Aixam Coupe S costs £9,999 new and the French firm hopes to sell 2,000 in the UK next year.
Test drive
"It beats walking, it beats taking the bus and it's cool," says Aixam's UK director Justin Bond.
"If I was 16 again I'd definitely want one of these vehicles."
Newsbeat invited 16-year-old Jack Hogan to try it out.
"It's a nice looking car, I thought it would be quite a lot smaller," he said.
"It was actually quite easy to pick up, even for someone who'd never driven a car before."
But at 6ft 2in (1.88m) Jack struggled with leg space and he's not convinced the Coupe S is worth the money.
"I'd probably wait until I was 17 and get a real car instead of this," he said.
"I don't see, for a year's difference between 16 and 17, that it's worth having a car and spending £10,000."
'Very worrying'
Julie Townsend from the road safety group Brake said: "We think it's very worrying that 16-year-olds will be able to drive these with just a moped licence as clearly the two vehicles are very different things.
"We're also concerned by anything that might encourage teenagers to be more inclined to drive when they're young."
Justin Bond doesn't see that as a problem though.
He said: "We have established markets throughout Europe and this is the same process in France, Spain and Portugal.
"The government sees it that a two-wheel vehicle is harder to drive than a four-wheel vehicle, so you'd be at an advantage learning on two wheels and then moving to our type of product."