Justin Bieber will not face photographer scuffle charge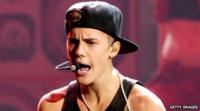 Justin Bieber won't face charges over an alleged attack on a photographer.
Prosecutors said there was "insufficient evidence for proof beyond a reasonable doubt" that the singer scuffled with the man.
Jose Hernandez-Duran claimed the star had jumped out of a van to kick him in the abdomen and punch him in the face.
Witnesses said they couldn't say for sure if Justin Bieber had hit the man and there were no photos of the incident.
However, a prosecutor's report did indicate that the singer had left the vehicle after becoming frustrated that photographers were blocking his exit.
It said the 18-year-old ran towards the photographer and the Canadian star fell over after taking a swing at his camera.
The incident took place at a shopping centre near Los Angeles in May after the star had been shopping with ex-girlfriend Selena Gomez.
A doctor's report on Hernandez-Duran found "minor swelling" to the photographer's right cheek and "redness" on his lower abdomen but labeled the injuries "superficial".
Earlier this month charges against another photographer, accused of chasing Justin Bieber, were dropped by a judge.