E4 comedy PhoneShop is commissioned for a third series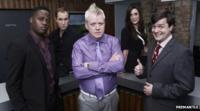 E4 comedy PhoneShop has been recommissioned for a third series, the channel has confirmed.
The show revolves around the escapades of a sales team in a fictional mobile phone store and began in 2010.
When the show started, some people thought its high street set was real and tried to shop there.
"We're thrilled we're going to be spending more time with Sutton's finest sales team," said Nerys Evans, Acting Head of Comedy at E4.
"The economy is clearly in safe hands with the PhoneShop crew's dedication to shifting units while attempting to run the high street."
Ricky Gervais was involved with the first series as script editor and a second series went out in November and December last year.
The six new half-hour episodes are set to be broadcast in early 2013.
See what happened when Newsbeat visited the show's set.