Amy Winehouse Foundation charity fundraiser is held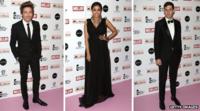 Music stars have paid tribute to Amy Winehouse as they raised money for disadvantaged young people.
Family and friends of the late singer, including producer Mark Ronson and Tyler James, attended a fundraising event for the Amy Winehouse Foundation.
It was held to raise money for young people struggling with homelessness and drug and alcohol misuse.
Amy's father Mitch Winehouse said early intervention was key to stop people falling into alcohol and drug problems.
"We need to do as much as we can to raise as much money as we can for disadvantaged young people," he said.
"The key is early intervention, which means getting into schools and speaking to young people at the earliest opportunity and giving them all the information they need and allowing them to make the appropriate decisions for them.
"It's not going to help everybody. There's still going to be people who still turn to drugs.
"But if people know that legal highs might be legal but they're not safe, they are not stupid, they'll be able to make the appropriate decisions for themselves."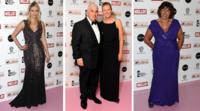 The ball included performances from former Bros star Matt Goss and recent X Factor contestant Ella Henderson.
The Amy Winehouse Foundation raised £230,000 on its first anniversary, with the money going towards charities including the New Horizon Youth Centre and Fitzrovia Youth In Action.
Both organisations provide charitable activities for disadvantaged young people.
The foundation also supports scholarships for underprivileged pupils at the Sylvia Young Theatre School, where Amy Winehouse trained.
She died in July last year at the age of 27.
Mark Ronson, who produced Winehouse's award-winning Back To Black album, said: "I'm here to support the foundation and to make sure money is raised to let Amy's legacy do some good."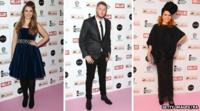 Tyler James, who found fame on BBC One talent contest The Voice, was living with the star when she died of alcohol abuse.
He said his performance at the ball was in memory of Amy, who he called his "soulmate".
"I had alcohol problems in the past, I went to rehab, I'm lucky to be here," he said.
"I was taught quite a lot about drugs in school, but no-one really talked about the dangers of alcohol.
"I'm still grieving but something like this helps me because it's a really positive thing. She'd be so proud of her dad and her family.
"Amy was my soulmate, I think about her all the time. Part of me feels like she's still here."