Justin Bieber says life can get lonely and 'gloomy'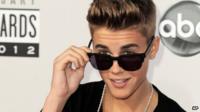 Justin Bieber has told chat show host Oprah Winfrey that he gets lonely and down.
The 19-year-old Canadian star was interviewed on Next Chapter and revealed that he only had three people he could call.
"I really don't have a lot of friends," he said. "I have three close friends that I'll fly out to see me or that I'll iChat with or call."
He also says that he can feel alone because he's "human".
"I get days where I'm just down and gloomy," added the singer.
Justin Bieber, who went out with Selena Gomez, also confirmed that he wanted to be married by the time he was 25.
"Rethink that will you?" said Oprah to convince him that he was too young to tie the knot.
"You are Oprah and you're telling me to not get married at 25," he said.
"I should probably listen to you."
The Justin Bieber episode of Oprah's Next Chapter will first air in the US on 25 November on OWN. The episode will then air internationally starting the same day.