Sgt Danny Nightingale: Wife of SAS man speaks out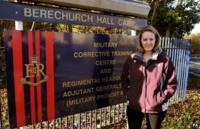 The wife of an SAS sniper jailed for possessing an illegal gun says her husband didn't know he had the weapon.
Sergeant Danny Nightingale, who served in Iraq and Afghanistan, was sentenced to 18 months in prison.
It's after he pleaded guilty to possession of a 9mm Glock and 300 rounds of ammunition.
Sally Nightingale says her husband has memory loss issues because of a "major brain injury" and also claims he was "forced into a plea of guilty".
"He would've got five years in prison," says Sally Nightingale. "That wasn't the best outcome, so he pleaded guilty. Now we're trying to get justice."
Danny Nightingale is serving his sentence in military detention after being sentenced by a court martial.
The gun and ammunition were found at his army home in Hereford and his lawyers claim the pistol was a gift from Iraqi troops he'd been helping to train.
It had been packed up by his colleagues and sent to the UK along with the rest of his things.
He says he had flown back earlier for a friend's funeral, without his belongings.
The Glock was then found following a raid.
'Struggling'
Sally says her husband has memory loss issues that have caused problems in the past.
"He had a major brain injury in 2009, during a charity run he collapsed and fell into a coma for three days.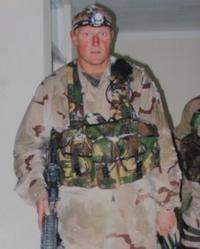 "When he came round he couldn't even remember his own daughter."
Sally, who lives with their children in Crewe, says her husband is "struggling to be locked up for 16 hours a day" at the Military Corrective Training Centre in Colchester.
She's written a letter to Prime Minister David Cameron, which includes support from four former SAS members, including the former commanding officer, claiming Sergeant Nightingale was "the victim of a monstrous miscarriage of justice".
Lawyers for the dad-of-two will be lodging an appeal against his conviction and sentence later this week, as well as applying for bail.
Defence Secretary Philip Hammond has also written to the government's top legal officer.
He's asked for a review into whether Sergeant Nightingale's prosecution had been considered to be in the public interest before the case was brought.
Sally says despite the pistol being found at her husband's accommodation, his case is exceptional.
"He's been serving his country for 17 years, he's not physically brought the gun into the country. It was a war trophy.
"There are so many mitigating circumstances. It is not your typical he deserves to be jailed case."