Amy Winehouse's father Mitch reveals tribute gig plan
20 November 2012

From the section

Music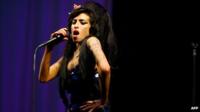 Mitch Winehouse has revealed more details about a tribute gig for his daughter, Amy.
Mitch said he wants it to feature a number of acts, doing a few songs each over several hours.
He wouldn't confirm who would be playing at the 14 September show, but said the response had been "incredible".
Amy Winehouse was found dead in July 2011 at her home in Camden, north London, aged 27.
"14 September 2014 at the Roundhouse in Camden Town, we'll be unveiling Amy's statue," said Mitch Winehouse.
"[It] will be accompanied by a concert. So far, the support from stars has been incredible.
"We want to make it like a Live Aid type concert where we get maybe four, five, six hours' worth. People doing a couple of songs each.
'Incredible' response
"Obviously that involves a lot of people. So far the response has been incredible," he added.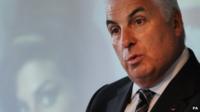 Mitch was speaking ahead of the first major fundraising event for the charity set up in his daughter's name.
The Amy Winehouse Foundation Ball, hosted by Mark Ronson, takes place in London tonight [20 November].
Singer Tyler James from The Voice is among the performers at the event.
Speaking about the Foundation's work, Mitch said it had just come up with a plan for a schools' alcohol and drug education project.
He said: "We're ready to roll that out in March. I think we are going to be starting with 45 schools.
"We're working with people in recovery to deliver the message to young people."
Mitch Winehouse also said that rumours of a film or musical about the Amy's life were not true.