Kiera Chaplin to be Amy Winehouse Foundation ambassador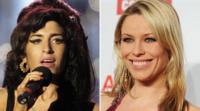 The Amy Winehouse Foundation has appointed actress and model Kiera Chaplin as its first world ambassador.
The charity, set up after the singer's death in 2011, aims to educate young people about substance abuse and help those who have problems.
Along with her dad Mitch, Amy was a big fan of the 30-year-old actress, whose grand-father was Charlie Chaplin.
Kiera will be guest of honour at the Amy Winehouse Foundation Ball on 20 November, hosted by Mark Ronson.
The British actress has appeared in films like The Importance of Being Earnest, as well as modelling in Vogue and Elle magazines.
It's thought she will help promote the charity's work both in the UK and the US, where she's currently based.
Amy Winehouse died in July 2011 at the age of 27 after drinking heavily.
She had battled drug addiction before, but Mitch Winehouse said she had been clean of illegal drugs for three years before she died.
The foundation in her name also funds three scholarships for underprivileged pupils at the Sylvia Young Theatre School, where Amy trained in the 1990's.