Benefit cuts 'could make under-25s homeless'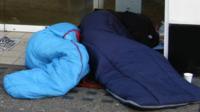 Thousands of young people could be left homeless if the government cuts housing benefit according to Crisis, the charity for single homeless people.
Proposals have been put forward that would abolish the benefit for people under the age of 25.
David Cameron says they should move back in with their parents instead of claiming support.
Crisis believes that would be impossible for many of the 385,000 young people on housing benefit.
More than half have children of their own or their parents may not have room for them, while others have experienced violence or abuse in the home while growing up.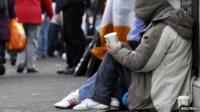 Jade, who did not want Newsbeat to use her full name, says that housing benefit is the only thing that stops her from becoming homeless.
Why did you move out of home?
"I was sexually abused by my father from age 11 to age 16. It was not an option for me to live in that house anymore.
"My mum stuck on my dad's side so I was on my own."
Where are you living now and how are you paying for it?
"I got made redundant a few months back.
"My housing benefit gets paid for me and at the moment I'm on job seekers' allowance because I am really looking for a job.
"I am only just getting by."
If your housing benefit was cut, where would you be?
"I would be on the streets.
"There is no possible way I could ever move back in with my parents.
"With other family members and stuff, I'm the kind of person who doesn't like to be a burden on other people.
"There is a large amount of people that actually need it [housing benefit] and wouldn't be where they are now without it."
How do you feel about people who abuse benefits?
"I have always been the kind of person who has never ever wanted to be on benefits.
"Even when I was at college I had a Saturday job. I've always worked.
"When there are those people that sit and don't do anything, it does give us a bad name.
"It is very easy for people to go on benefits and I don't think it should be very easy."