I'm A Celebrity: Ostrich 'could have killed' Flanagan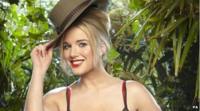 A contestant on I'm A Celebrity... Get Me Out Of Here! "could have been killed" during a trial which featured an ostrich, according to the RSPCA.
It says former Coronation Street star Helen Flanagan could have been "hurt badly" if the bird had become distressed.
The 22-year-old was put into a small room with the bird during a challenge on 15 November.
Ostriches are classified in the UK as dangerous animals.
However, Klare Kennett from the RSPCA said the charity was more worried for the bird than the actress, adding: "Helen chooses to go in there but the ostrich doesn't.
"It's a concern that these big birds are used for entertainment in this way, especially to frighten somebody."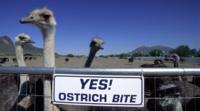 Reports suggest it took Helen around an hour to be convinced to go into the room while the ostrich waited inside.
After she went in, the animal could be seen opening its wings when it was startled by a loud noise. Moments later the room was plunged into darkness.
Powerful kick
"The ostrich could easily have become very stressed and hurt the contestant quite badly," said Klare Kennett.
"It's even possible Helen could have been killed."
Ostriches have a very powerful kick that can kill a human and are able to run at more than 40mph (64km/h)
ITV defended the show and said it always took precautions to ensure the safety of contestants and animals.
A spokesperson said: "The welfare of contestants and animals is of paramount importance to I'm A Celebrity... Get Me Out Of Here! and expert animal handlers are on site at all times."
But the RSPCA's Klare Kennett claimed the trial was still dangerous.
She said: "Even if there were handlers nearby they may not have been able to get to her in time.
"It's taken several RSPCA inspectors to bring an ostrich under control. It's not like catching a dog."
In 2009, ITV was fined 3,000 Australian dollars (£1,672) after celebrity chef Gino D'Acampo killed and ate a rat while taking part in the show.