Facial palsy left me 'isolated and bullied'
16 November 2012

From the section

Health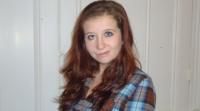 Years of being bullied, feeling lonely and not wanting to look in the mirror.
Nineteen-year-old Claire was born with facial palsy - when half of your face is paralysed - and the impact has been huge.
She said: "How would you like looking in the mirror each day and not liking what you see?
"And then going into school somewhere you don't feel confident and people pick on you because of it?"
Claire says she was bullied throughout school: "I was very isolated, I never really talked to people.
"They were horrible, just called me ugly, it was more what they did, the impressions, and just follow me about."
Claire is one of 100,000 sufferers in the UK.
Some people are born with it, for others it can be the result of a car accident or after brain surgery.
"The vast majority of people have a thing called Bell's palsy, which is a temporary thing," says surgeon Ahmed Sadiq.
"Patients who have had brain surgery, etc, they tend to have a facial palsy that's more severe and will last the rest of their lives."
Cry for help
Claire had an operation when she was 16 to lift the left side of her face. There was a physical improvement but emotionally she was still struggling.
She says she became depressed and turned to alcohol because it made her more confident.
"People thought I was funny when I was drunk and I liked that and then it just took off to a whole new level.
"Things got out of hand with self-harming. One day it just didn't help any more and that's when I took some tablets."
She says it was a cry for help, rather than actually wanting to die.
Claire explains that while she feels confident and happy now, it's been a long journey.
Today a charity called Facial Palsy UK is being launched to help sufferers and raise awareness.
"My mum needed support and I needed support and if the charity can help one four-year-old who is nervous about going to school, it's worth it."