Newsbeat's Guide to Israel and Hamas
20 November 2012

From the section

Politics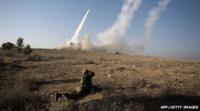 More than 100 people have now been killed by fighting in Gaza, according to Hamas - the group in control of the territory.
There are new attempts to end the fighting although there were more air strikes from Israel on Monday night (19 November).
Three Israelis have been killed since violence started there last week. Militant rockets hit Israeli cities on Tuesday with no casualties reported.
Israeli officials say they have put plans for a ground operation in Gaza "on hold" to give talks to secure a truce with Hamas militants a chance.
US Secretary of State Hillary Clinton is due in the Middle East for crisis talks.
BBC News: Read more about the Middle East crisis
The Gaza strip and Hamas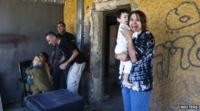 Gaza is an area on the border of Israel, home to 1.5 million Palestinians mostly aged under 30.
There has been fighting for decades between the Israeli government and the Palestinian people who want Gaza to be one part of an independent state of Palestine.
Gaza is controlled by an Islamic militant group called Hamas - which is an acronym for a group of words in Arabic - one translation is 'enthusiasm'.
The last conflict between the two sides was in late 2008/early 2009.
Back then Hamas couldn't match the modern high-tech military equipment used by Israel.
Read the analysis of three BBC reporters on Israel-Gaza violence
What does this latest situation mean for the Middle East?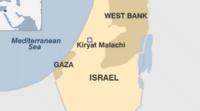 The killing of the head of Hamas' armed wing Ahmed Said Khalil al-Jabari can be viewed as a deliberate escalation of violence by Israel.
The Israel Defence Forces (IDF) say it's attacking Gaza because it wants to stop Palestinian rocket fire.
In recent weeks there has been cross-boundary violence, hundreds of rockets have been fired into Israel by militants in Gaza and Israel carried out numerous air strikes.
Hamas claims it is protecting Palestinians engaging in legitimate resistance.
BBC News: Compare Hamas and Israel's firepower
Upcoming Israel general election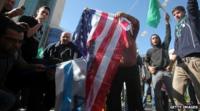 Questions are being asked about the timing of the killing, two months before an Israeli general election.
In the past, military strikes have been used to send messages about the toughness of Israeli leaders.
In a televised statement, Israeli Prime Minister Benjamin Netanyahu said Israel would continue to do "everything in its power" to avoid civilian casualties.
He accused Hamas of a "double war crime" of firing at Israeli civilians and hiding behind Palestinian civilians, saying militants deliberately placed rockets and missiles in civilian areas.
Warnings have been issued by Britain and the head of the UN that the situation is likely to worsen very quickly.