Rihanna's around the world 777 tour takes flight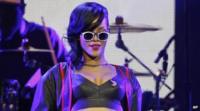 A tour which will see Rihanna play seven gigs in seven cities over seven days, has kicked off with a show in Mexico City.
The show was the first of a week of shows by the star, dubbed the 777 tour.
The singer is flying around the world in a Boeing 777 jet accompanied by more than 150 journalists and competition winners.
Her set at Mexico City's El Plaza Condesa featured hits including Diamonds, We Found Love and Umbrella.
Next she'll travel to Toronto, Stockholm, Paris and Berlin before visiting London on 19 November and finally New York and Detroit.
Journalists boarding the plane were presented with a Rihanna themed gift bag which included flight socks, head phones and a diamond.
Rihanna's seventh album Unapologetic will be released on 19 November.