More people are getting help after taking club drugs
14 November 2012

From the section

Health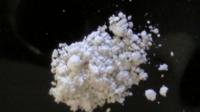 More people are seeking medical help after taking club drugs like ecstasy, ketamine and mephedrone, new figures show.
The National Treatment Agency for Substance Misuse (NTA) says last year 6,486 people were treated in England.
That is up from 4,656 people six years ago.
The NTA says the numbers are low because the drugs are newer and they're worried numbers will continue to rise as more people come forward.
One 18-year-old, who wants to remain anonymous, says he was addicted to mephedrone.
"It sort of started through someone telling me about M-Cat," he said.
"At the start it was really fun. Then it was getting to the stage where we were buying a ridiculous amount and taking a ridiculous amount.
"I would do it in college as well. I'd take some with me to try to stay awake throughout the day.
"I tried to stop taking it for New Year but I spent Christmas looking for it. Everyone was enjoying Christmas but I was looking for drugs."
'Out of hand'
He says he decided to stop taking it once he realised the addiction was having a negative effect on his life.
"I stopped eating," he admitted. "For about three weeks I didn't eat at all apart from snacks when my stomach was hurting and I literally had to eat.
"I went down to 5st 5lb (34kg), I've never been big I'm probably normally about seven stone (44kg).
"I'd feel lethargic all the time and had no energy.
"My parents were asking what was wrong with me. I wasn't telling them about it, but it got out of hand and I realised I probably wouldn't stop taking it unless I told them.
"They had guessed something was going on. They assumed I was on speed because of the weight I lost."
The NTA says drug treatment services need to be geared up to meet changing needs as more and more club drugs come onto the market.
The 18-year-old says he was referred for counselling through his college.
"I found the medical profession isn't keeping up with the legal highs that are coming onto the market," he said.
"I think if I had carried on taking mephedrone for much longer than I did I would be dead now. It did so much damage."