Gangnam Style star Psy is unhappy 'being responsible'
13 November 2012

From the section

Music
South Korean singer Psy says he's unhappy with the "heavy pressure" of representing his country on a global scale.
"I don't want to live like that," the Gangnam Style singer confesses.
"I am not that responsible person. I hate the word responsibility. I wasn't responsible at all before Gangnam Style and now I gotta be good."
Psy, 34, says he was "bad ass" before the worldwide success of Gangnam Style.
The video has now been viewed more than 700 million times on YouTube.
Cultural honour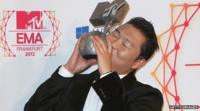 In previous concerts, Psy has dressed in revealing PVC outfits and covered Lady Gaga songs.
In 2011 he performed Beyonce's Single Ladies on stage wearing a leotard.
Earlier this month Psy was awarded the Okgwan Order of Cultural Merit by South Korea's Culture Ministry, for increasing awareness of South Korean pop music and interest in South Korea.
When asked how he felt about being used politically, Psy admitted he was "not that kind of person".
He also recounted a tale of being photographed in Toronto recently standing by a no smoking sign which did not go down well at home.
"There was a public ashtray there," Psy protested. "That's why I smoked there and everybody smokes there so I thought it was all right.
"But in Korea that was kind of a bit of trouble so people say, 'Oh Psy, you are representing our country so don't do that.'
"That kind of thing happens these days."
At the weekend Psy won best video for Gangnam Style at the MTV Europe Music Awards and he says he is working on his first international album.
That will be recorded half in English, half in Korean and will be released in 2013.