Newsbeat's guide to... the BBC
12 November 2012

From the section

Politics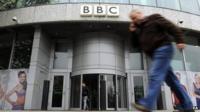 The BBC's head and deputy head of news, Helen Boaden and Steve Mitchell, have stepped aside while investigations are held into the corporation's handling of the Jimmy Savile abuse allegations.
Questions are being asked about why BBC Two's Newsnight programme dropped an investigation into claims against the former BBC TV presenter.
The former Radio 1 DJ has been accused of sexually abusing children from the 1960s up until the 2000s. He died in 2011.
The announcement follows the resignation of the director general, George Entwistle, over a separate Newsnight report which wrongly linked a senior Conservative politician in the 1970s and 1980s with child abuse in north Wales.
MPs have also criticised the decision to pay Mr Entwistle a year's salary of £450,000.
Who is in charge of the BBC?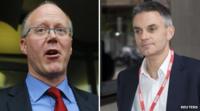 George Entwistle has stepped down as director general of the BBC after 54 days in the job. He took over from Mark Thompson.
Former head of the BBC's audio and music department which is in charge of all the BBC's radio stations, Tim Davie, has taken over on a temporary basis.
The director general is chief executive and editor-in-chief of the corporation, which means that he or she is ultimately responsible for what the BBC does.
They also make sure that the licence fee is used responsibly and effectively.
The BBC Trust is the governing body of the corporation.
That is a separate organisation, led by Lord Patten, which looks to get the best out of the BBC for licence fee payers and ensures services meet audiences' expectations by reviewing what they do.
How is the BBC organised?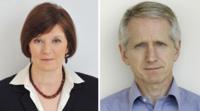 The new director general will have a management team which oversees different departments.
These include Vision (television output), Future Media (online and interactive services) and News.
The director of BBC News is Helen Boaden although she and her deputy Steve Mitchell have now stepped aside from their day to day jobs while an investigation into Newsnight continues.
Head of BBC newsgathering, Fran Unsworth, takes over as acting director of BBC News while Radio 4's Today programme editor Ceri Thomas will act as her deputy.
Each news programme - like Panorama, Newsnight or Newsbeat - also has an editor who reports up to the senior management team. Day to day editorial decisions rest with each individual programme editor.
Why is the BBC accountable to its audiences?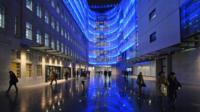 The BBC is funded by the licence fee.
Anyone who watches or records television as it is being broadcast must pay. This includes people who access live shows on devices like laptops and smartphones.
People over 75 are entitled to a free licence.
The BBC is therefore funded by public money, unlike other broadcasters which are run privately using revenue from things like advertising.
Why does the BBC need to be independent?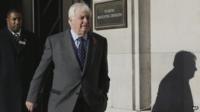 When the BBC began in the 1920s, founder John Reith's idea was for it to "inform, educate and entertain".
Today, people both in the UK and around the world rely on the BBC as a trusted source of information.
It is supposed to be balanced when reporting on news and current affairs and not be biased towards a particular group of people, organisation or political party. It has editorial guidelines to ensure this happens.
The BBC needs to operate independently of government, business and other media organisations so that it can maintain its impartiality.
On occasions such as the Jimmy Savile scandal, the BBC also has a responsibility to its audience to investigate things like its own news service.