Student rents 'double' in 10 years
9 November 2012

From the section

Politics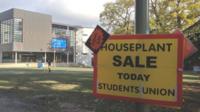 Students are paying twice as much for a university room as a decade ago.
The average weekly rent in university-owned accommodation was £117 in 2011/12, according a study by the National Union of Students (NUS).
If you include rooms provided by private firms, the average rises to £124, compared to £99 three years ago.
The NUS says universities need to make sure there are more cheaper rooms in halls, to stop people from poorer families being put off.
Newsbeat spoke to students at the University of Reading, where £200 million has been spent on new student accommodation.
University rooms cost between £97 and £143 per week.
James Harrison, fourth year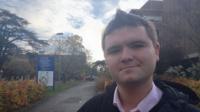 James was in halls in his first year at university and has gone back for his fourth year.
"I was in a dingy, horrible hall which was falling to pieces, but it was very cheap.
"Now in a way it's too nice. The flats are much more expensive and you miss out on the community spirit.
"I'm paying £1,700 more a year without food. It's a lot more, but it's great to still be here at university."
Rolake Oyedip and Funke Olutoye, both first year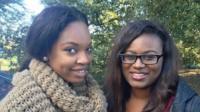 Funke has a room in one of the university's more expensive halls.
"It's a nice place but it's really small compared to other universities.
"It's beautiful but I'd like it to be bigger.
"They do have cheaper rooms here but you have to share with other people."
Rolake is living off campus: "The website got jammed and I ended up there instead of where I wanted to live.
"It's alright but it could have been better. I pay £138 a week, only a couple of pounds less than Funke, and there's a big difference between the rooms."
James Fletcher, student union president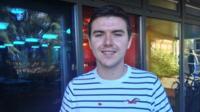 "I think the halls are a very good quality across the board, but as a union we'd like to see some of the rooms a little bit cheaper.
"There will be students who want an en-suite, double bed experience, and there are some who won't be able to stretch to that."
Alex Brannen, University of Reading spokesman
"We've invested hundreds of millions of pounds in accommodation because student expectations are rising.
"Quite a lot of the accommodation built in the 60s and 70s really isn't fit for purpose, and none of this comes cheaply.
"The new accommodation is at the top of the price range but it's the most popular with students."