Female version of The Inbetweeners is commissioned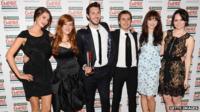 The team behind The Inbetweeners is launching a female version of the show.
The show, called Drifters, features three of the stars of the spin-off film - Lydia Rose Bewley and Jessica Knappett, who played clubbers Jane and Lisa, and Lauren O'Rourke, who played Neil's girlfriend.
The trio play three friends stuck in dead-end jobs in Leeds while they are trying to figure out what to do.
Bob Mortimer will star as one of their fathers in the Channel 4 show.
The show has been written by Jessica Knappett.
Iain Morris, one of the creators of The Inbetweeners, is executive producer on Drifters.
He said: "We're lucky and delighted to be involved with Jess's new sitcom.
"We knew from our time working with her while shooting The Inbetweeners movie that she was hysterically funny, not least because she created the production's unofficial drinking den, Bar Knappett, in her hotel room."
Channel 4's comedy commissioning editor, Fiona McDermott, said: "Drifters promises to be a really funny sitcom about really funny girls. It's that simple.
"Jess is a fab talent and it's great to be working with her."
The first UK film, which saw the group head off to the Greek island of Crete, made £45 million at the box office despite a production budget of just £3.5 million.
The Inbetweeners has also been remade for the US market as a film and series.