Hundreds of mobile phones stolen each day, data shows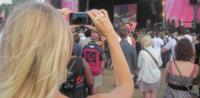 More than 260 mobile phones have been stolen every day so far this year, according to new figures.
Thirty-three police forces across England, Scotland and Wales have released data going back to 2010.
In the first eight months of this year 264 mobile thefts were reported per day, up 7% on the previous year.
Hot spots include London's Hyde Park, where 163 thefts were reported between May and August, and Greyfriars Road in Cardiff with 125 thefts.
According to the information, obtained by insurance company LV, around 16,500 teenagers have been arrested for this type of crime in the past three years.
Unrecovered phones
Nadia Yare, 22, is a maths student in Sheffield and had her phone taken in a nightclub.
She said: "I was just dancing on the dance floor and there were these two guys around and they managed to get into me bag.
"I didn't report it because I didn't want to go through all the hassle really, I just got a new phone."
The Metropolitan Police said more than half of the people arrested in the capital on suspicion of mobile phone theft were in their teens.
The youngest was a nine-year-old in Leicestershire with officers from Scotland Yard and Suffolk both reporting thieves as young as 10.
A fraction of the phones were later recovered.
Forces have dealt with 230,000 mobile phone thefts since 2010 but only recovered 1% of handsets.
Other areas with high levels of theft included Sheffield city centre with 1,309 phones taken so far this year, Castle ward in Leicester where 742 were recorded, and Bristol city centre where there were 399.
Speaking to Newsbeat in 2010, Detective Chief Inspector Martin Ford from The National Mobile Phone Crime Unit said demand in other countries had led to an increase in thefts with phones sold at four times their UK price.
"Legitimate traders are not in a position to meet the demands," he said.
"The black market has stepped in and started to provide for the demand."