Third of young owners would give up pet due to cost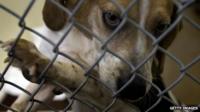 One in three pet owners aged 18 to 24 would consider giving up their animal if the cost of care became too much, it is claimed.
New figures from animal charity PDSA suggest prospective owners are not fully taking into account the cost and responsibility of owning an animal.
Gwen Chimonides, who is 28 and a student in Birmingham, took in a stray cat she named Lefty.
"I have to think about the cat and how much she's going to eat," she said.
"It does make the budget a little bit tighter."
She says despite the financial commitment, she would never consider giving Lefty up.
"Moneywise I would always find a way," she said. "Even if I had to get a second job to get her food."
Cost
PDSA's survey claims 20% of young people say it has already cost them more than they expected.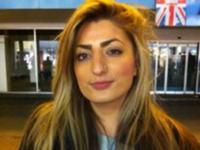 The charity also says that more than nine out of 10 owners are unaware of the amount that they need to spend to take care of their pet.
They say that the average dog can cost between £16,000 and £31,000 over the course of its lifetime depending on its size, while a cat will cost £17,000.
That covers buying the pet, neutering, initial vaccinations, microchipping, accessories as well as the ongoing costs of food, boosters, insurance, toys and grooming.
Nearly three-quarters of people thought that owning a dog over its lifetime would cost them less than £5,000. Nearly one in four thought it would be less than £1,000.
'Silent victims'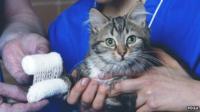 Last week the RSPCA reported a rise in abandoned pets in England and Wales from 24,638 in 2007 to 40,595 in 2011.
The organisation's Gavin Grant said pets were the "silent victims" of recession.
Gwen says Lefty was a stray because at some point someone had neglected to care for either her or her mother.
"For those who are just bored of their animals, can't be bothered any more, I think it's absolutely disgusting," she said.
"They should have a good look at themselves, see how they would like it if they were treated like that."
Asiya Mohamed, 27, is a student and says owning a pet at the moment would be a luxury for her.
"The way that everything is going these days, it's too expensive," she said.
"I don't think a lot of people prefer to have a pet in their life at the moment."