Google's music position 'doesn't make sense' says BPI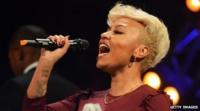 The body which represents the UK's biggest record labels says it "doesn't make sense" for Google not to tackle piracy when it's launching a new, legal music service.
Google says it wants its new music service, Google Play Music, to wipe out piracy on Android devices.
But the BPI claims the firm is not keeping its promise to make it harder to find illegal download sites.
Google said back in August that it was making changes.
The company announced that the new way of calculating results would take into account the number of "valid copyright removal notices" sites had received.
Sites with more notices would rank lower, although Google did not say what it considered a valid notice.
'Undermine artists'
The BPI's [British Phonographic Industry's] chief executive Geoff Taylor, said: "We don't think it makes any sense for them to be doing something which does support artists and then, on the other hand, undermine artists by referring consumers to illegal sites.
"We personally think that three months should be long enough to get it working."
Sami Valkonen, head of international licensing for Google Play, said it was not as easy as that.
"The way that our search engine works is a completely separate algorithm from anything we do on Google Play," he said.
"Our search algorithm is a very complex beast and how it works, I have no clue."
iTunes rival?
Google Play says it hopes to rival the dominance of Apple iTunes in the UK by offering customers the chance to store up to 20,000 tracks in a cloud for free.
"We'll make it easy for consumers to acquire legal music," said Sami Valkonen.
"I think that is something that is hopefully going to make piracy obsolete because it's so easy to operate within the bounds of the law that there is really no need to go beyond them."
The BPI says it welcomes the addition of a new legal service to the UK market, adding "it's good for the music industry and for consumers to have choice".
Already available in the US, Google Play makes millions of tracks available for a typical price of around 99p.