Dani Harmer and Michael Vaughan to join Strictly tour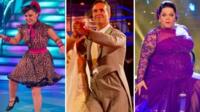 Dani Harmer, Michael Vaughan and Lisa Riley have all announced they will appear on the Strictly Come Dancing live tour line-up.
They are the first contestants to confirm they will be participating.
The annual tour starts in January and will also feature judges Craig Revel Horwood, Len Goodman and Bruno Tonioli.
Riley says she "had an absolute ball on the show and the chance to carry on dancing, and in front of thousands of people, is too good to miss2.
All three contestants are still dancing in the current competition.
'Huge challenge'
Vaughan says he is also pleased with the chance to carry on perfecting the skills he has been picking up.
He said: "Learning so many different dances has been a huge challenge for me, but an amazing experience."
The former England cricket captain started off with a poor performance but has received more positive feedback from the Strictly judges in recent weeks.
The tour will be hosted by Kate Thornton and will visit Birmingham, Newcastle, Glasgow, Liverpool, Manchester, Nottingham, Sheffield and London.
More than 1.5m tickets have been sold for the tour over the past five years.