Young women warned over December car insurance rise
12 November 2012

From the section

Politics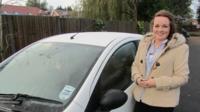 Women are being urged to check their car insurance ahead of a new rule coming into force next month which will ban firms from taking gender into account.
It means female drivers will see their premiums go up by as much as 25% after 21 December.
Some insurers say it might even be cheaper to cancel a policy and sign a new deal before the changes come in.
Brogan Mooney already has three jobs.
The 18-year-old works in a baby shop, sells jewellery over the internet and receives advertising money for beauty and fashion videos she posts online.
"I'm spending all of my wages on my car," she says.
What's happening?
From 21 December, insurance firms in the UK will be banned from taking gender into account.
At the moment women pay less for car cover, so their premiums will rise to bring them in line with what men pay.
According to the Department of Transport, male drivers under 25 were involved in more than 24,000 accidents in 2011.
That's 10,000 more than women of the same age.
What will it mean for me?
It's thought young women will have to pay around 25% extra.
Brogan doesn't think that's fair. "I've been driving a year now and I've had no crashes and no claims, so I should be rewarded," she says.
"It shouldn't be going up for me, it should be going down."
Emma Butler, who is also 18, works in the same store as Brogan.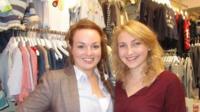 She says: "It should be equal for boys and girls, but I don't think it should be going up so much for us. It should maybe meet in the middle."
Male drivers should see their premiums drop slightly, and on Newsbeat's Facebook page, Dan Smith wrote: "Brilliant, brilliant news, it's been a long time coming."
What can you do about it?
Insurance firms aren't happy about the change and spent several years trying to stop it.
They say it's now even more important to shop around for the best deal.
If your cover is due to expire just after 21 December, insurers say it might be cheaper to cancel your policy before that date and sign up for another year at cheaper prices.
But you'll probably be charged a fee and it might also affect your no claims bonus.