Young Americans say unemployment is 'the main problem'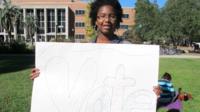 As Barack Obama and his rival, Mitt Romney, appeal for votes on US election day both men know the backing of young voters could be crucial.
In 2008 Obama and the Democrats swept to power with the support of two out of three voters under the age of 30.
Four years on, Republicans are hoping that the country's struggling economy and high rate of youth unemployment will reverse that trend.
On the campus at Florida State University in Tallahassee, 24-year-old Patrice DeVore is holding up a sign reminding students to vote.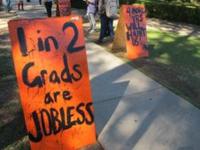 Find out more about the US election and how it works
She says: "People might feel like they came out and voted last time but maybe the administration hasn't paid enough attention to youth."
This election, she says, is crucial for young Americans but admits she still has no idea who she is going to vote for.
"I'm still thinking about it," she admits. "Four years ago I supported Barack Obama but I haven't decided this time."
She thinks a lot of young people in the US feel both the Democratic and Republican parties need to do more to help young people.
"Jobs is the main problem and neither party is doing enough to solve the issue," she says.
Jobless youth
Figures show 16% of young people under 25 in the US are unemployed.
That doesn't include those like Patrice who gave up looking and opted to keep studying.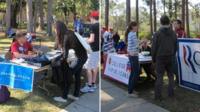 "I was competing with people with 10 year's experience for entry-level jobs" she says.
"I can't compete with that so I had to come back here and keep studying."
'Advance in life'
Patrice doesn't pin all of the blame on Barack Obama though.
"I have a dose of realism about me," she says. "I know change was not going to be easy. I didn't think it would happen the next day."
She still hasn't ruled out voting for Mitt Romney though.
she says: "The main question that comes up with him is 'Can I trust him?'
"I feel like I still need to know more about him."
She wants whoever is in the White House for the next four years to focus on creating more jobs.
"I feel the way a lot of my friends do," she says. "I would like to advance in life.
"Instead of renting I'd love to buy a home. I don't know if that's going to be an option for me."