Alt-J Mercury Prize album win was 'adrenaline blur'
2 November 2012

From the section

Music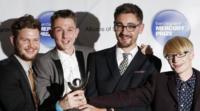 Alt-J have described picking up this year's Mercury Prize as an "adrenaline-fuelled blur".
Speaking to Newsbeat after winning the award for their debut album An Awesome Wave keyboardist Gus Unger-Hamilton said: "I'm struggling to remember the moment we won."
Despite being early favourites to win singer Joe Newman said he felt the result was "a shock".
The band beat off competition from the likes of Plan B and Jessie Ware.
'Realisation'
Joe Newman said: "It's slowly seeping in - the realisation of what's happened."
The Mercury Prize has had different effects on the careers of previous winners. Past winners include Dizzee Rascal, Elbow and Speech Debelle.
"It's specific to each band," said guitarist Gwil Sainsbury. "It's completely uncharted territory. You can never say. I have no idea what it means for us."
The Cambridge-based indie-pop foursome also walked away with £20,000 as part of their prize.
"I'm going to buy something for my parents, maybe a rug," said Newman.
"And I'm going to buy my sister something which can help with her university work - maybe a set of pencils."
He also said his father tried to put a bet on the group winning the prestigious award at the start of 2012, before their album was even complete.
"He failed because the bookies didn't know what he was talking about.
"They didn't know who Alt-J were, what the Mercury Prize was and they certainly didn't know my dad. They turned him away. He would have made a lot of money."