Chris Brown remains on supervised probation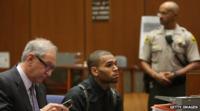 A California judge says Chris Brown must return to court for an update on his probation after his overseas tour.
In the hearing on Thursday, the 23-year-old was also ordered to stay on supervised probation for assaulting Rihanna when he was going out with her in 2009.
Superior Court Judge Patricia Schnegg did not address questions raised at a previous hearing about whether the R&B singer had completed the terms of his community service.
At the September hearing the judge called his hours "somewhat cryptic".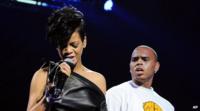 Officials from Chris Brown's home state of Virginia claimed the singer had carried out six months of community service.
But questions were raised about the validity of the work hours on the spreadsheet.
Brown "appears to be making a sincere effort with terms of probation", a probation officer wrote in a report prepared for Thursday's hearing.
It recommended he remain on probation under the same conditions since pleading guilty to the attack on his then girlfriend on the eve of the Grammy awards.
Back in 2009, the singer accepted a plea deal of community service, five years' formal probation and domestic violence counselling.
The R&B singer begins a tour on 14 November of Europe and South Africa.
He is scheduled to return to court 17 January 2013.
This latest hearing came the day after questions were raised about Chris Brown's choice of Halloween outfits for Rihanna party.
He posted pictures of himself and friends on Twitter in which he wore a turban, beard, long tunic and ammunition belt.