New York City is 'a hell zone'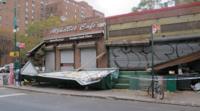 People living parts of New York still affected by superstorm Sandy say the city is now turning into a "hell zone".
More than 90 people died in Monday's storm, which left vast areas of the east coast of the America under water.
There's now growing anger at authorities in the city, with claims not enough is being done to help some people.
Thomas Amos, 27, lives in the East Village of Manhattan and has no power: "It's dark and cold in my apartment.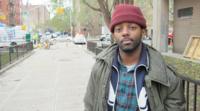 "There's no way we can get any food. Water is also scarce. People are actually going to the fire hydrants for water. It's just terrible."
He says he's finding it tougher to deal with conditions now than when the storm itself hit on Monday: "The aftermath is much worse.
"Now we have to go through waiting for the rebuilding to begin.
"It's now getting very cold too and we have no power for heating."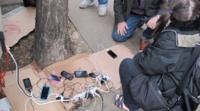 Small businesses are also affected.
The owner of a corner shop told us he had to throw away thousands of pounds worth of food because it was rotting: "This is devastating for us.
"We've already lost four days of business and we don't know when we're going to start getting back to normal.
"Lots of people are also getting out of the neighbourhood so we're losing customers."
The city is now divided with half of Manhattan still with power and getting back to normal.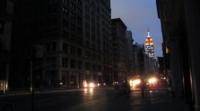 Thomas says: "They made sure they fixed things quickly for the millionaires in their expensive houses.
"But nobody has come to see us down here to check how we're doing."
New York Mayor, Michael Bloomberg, says all of the power in Manhattan should be restored by the weekend.
Limited subway services returned to New York on Thursday, though four of the seven train tunnels under the East river remained flooded.
Fares on commuter trains, subways and buses have been temporarily suspended to stop people from using the roads.