Government says beer tax escalator 'to be reviewed'
MPs have called on the government to scrap the beer tax 'escalator'.
Under the system, beer costs rise by 2% plus inflation meaning the price of a pint in the UK rises by between 5p and 10p every year.
MPs debated the issue for three hours in the House of Commons after 104,000 people signed an e-petition on the government's website.
The British Beer and Pub Association (BBPA) says a fall in beer sales is due to high prices putting people off.
MPs argued in the debate that with 16 pubs a week closing, any more price rises would cripple the brewing industry.
Conservative MP Andrew Griffiths said: "Scrapping the beer duty escalator would save thousands of jobs in the first year alone and stop the closure of hundreds of pubs in all of our communities.
"This is a huge opportunity to bring balance and fairness into the duty system and to support our pubs and breweries."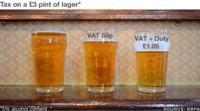 Economic Secretary Sajid Javid said the government would retain the beer escalator but keep it under review.
He claimed that if the escalator was axed, the treasury would need to find another £35 million in taxes annually or cut spending.
The Commons passed a motion backing a review without a vote.
The escalator, launched in 2008 by former Labour chancellor Alistair Darling, is due to last until 2014/15.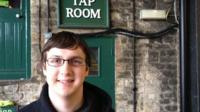 In the three months to September there was a 6% fall in beer sales, or 51 million fewer pints sold, compared to the same time last year despite the Olympics.
The BBPA says if the beer tax escalator was dropped next year 5,000 jobs in the industry could be saved.
The industry says it has also had to deal with the effects of the smoking ban and the slow-down in the economy as well as tax rises.
Jobs affected
Brewers say that more than 600,000 people in the UK rely on beer and pubs for their livelihood.
They say with more than £1 from every pint going on VAT and beer tax, things have to change.
Chris Parsons, 22, is a tour guide at a brewery in Witney, Oxfordshire where Prime Minister David Cameron is the local MP.
"It's absolutely not fair," he said. "It's just aimed at the pubs to get back the deficit.
"But you can't just aim it at pubs as they are closing all the time."