Vodafone raises the cost of existing fixed contracts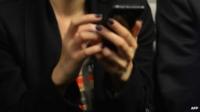 Vodafone has increased the cost of existing fixed contracts by 2.4% telling customers it is to keep up with rising inflation.
Providers are able to change the contracts because of "hidden" clauses in their terms and conditions.
Orange/T-Mobile (EE) and the 3 network introduced similar increases this year.
After customer complaints, the industry regulator Ofcom has said stricter rules could be introduced as early as January.
It means Vodafone customers on £15 per month contracts will pay an extra 54p.
£30 a month contracts will rise by £1.08.
In a statement Vodafone said: "From 1 November, we are introducing an average price rise of 59p to our pay monthly line rental in accordance with inflation (as measured by the Retail Price Index).
"We're changing the cost of calling some premium and 118 numbers at a time when we're seeing rising costs within our own business.
"We also recently introduced the Red plan offering unlimited calls and texts to all contract customers, regardless of where you are in your contract."
Ofcom says the providers need to "watch out" and says some of the options being considered include giving customers the choice to drop out of their contract or forcing companies to make the clauses clearer when agreements are signed.
The watchdog says customers should not be expected to read all the small print in the T&Cs.
Last October Vodafone increased bills by rounding them up to the nearest 50p.
Gareth Shaw from consumer group Which? called the latest increase "shocking" and said the contracts were "misleading".
Meanwhile, O2 has been criticised after raising the cost of using a mobile phone outside the EU.
The firm is adding 30p per minute to call charges from 28 November.
Receiving calls will go up by 51p a minute and sending texts are also being raised by up to 15p.
Within the EU call charges are capped at 28p per minute.
Advice from Which? about price rises
Contact your mobile company if you are unhappy
Make sure the company has given you 14 days notice of the price rise as per terms and conditions
As loyal customers, you should drive a hard bargain
Ask if they will compensate you for the price rise or if they can switch you to a different tariff
If you're still unhappy, you should tell them you will switch providers once your fixed term ends