Spanish festival Benicassim has future secured in deal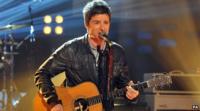 Organisers of Spain's Benicassim say the festival's future has been secured after it was bought back by its previous owners.
Promoter Vince Power has struck a deal with administrators to rebuy the event.
It was under the control of administrators after Power's company Music Festivals PLC went under in September.
Power said he was "delighted" by the agreement.
This summer's Benicassim saw performances from The Stone Roses, Ed Sheeran and David Guetta.
In the past thousands of British music fans have made the journey to the festival which takes place in the town of Benicassim, near Valencia.