Intruder held at Tom Cruise mansion in Los Angeles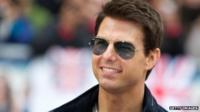 A 41-year-old has been arrested after being held at Tom Cruise's mansion in Los Angeles, California.
The man, later identified as Jason Sullivan, was shot with a Taser by security guards after being caught on the property.
Sullivan, who lives across the road from the Mission: Impossible star, was treated in hospital for his injuries.
Reports claim he was intoxicated at the time and may have confused the house for his own.
Authorities say neither the actor nor his family were at home when the intruder was spotted climbing a fence.
Tom Cruise is on location in London where he's filming All You Need Is Kill.
Scheduled for release in 2014, the film also stars The Devil Wears Prada actress Emily Blunt.