X Factor's Tulisa says she and Gary Barlow still friends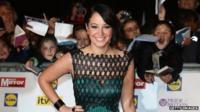 X Factor judge Tulisa Contostavlos says she is still friends with Gary Barlow, after he made comments about her breath on Saturday night's show.
Tulisa criticised Gary Barlow's song choice for his contestant Christopher Maloney.
He responded saying: "Tulisa, I don't know what's offended me more, what you've said or the fag ash breath."
She said: "We're totally fine. We were never not speaking in the first place. I can handle it."
Tulisa was speaking at the Pride of Britain Awards, where X Factor host Dermot O'Leary was also in attendance.
He says the pair "sorted it out" but that he avoided them both for a while.
"My dressing room's on the second floor," he said. "Normally I go down in the evening afterwards to the ground floor.
"I didn't go down that day, I just sort of hunkered down upstairs."
He added that Gary Barlow was sorry as soon as he made the comment.
"Gary's a lovely guy," he said. "He regretted it obviously as soon as he said it so he apologised straight away and it was pretty much sorted."
The X Factor host is also impressed with new judge, Nicole Scherzinger.
"Nicole's terrific," he added. "She's been a breath of fresh air for the show. She's so funny."