Green Day cancel all commitments until March 2013
29 October 2012

From the section

Music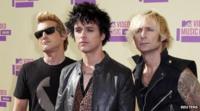 Green Day have cancelled all commitments until March 2013, as front man Billie Joe Armstrong continues to receive treatment for substance abuse.
The band have cancelled a north American tour which was due to continue into December.
An extensive tour scheduled for January and February has also been postponed.
"Obviously the timing for this isn't ideal, but Billie Joe's well-being is our main concern," a statement from bass player Mike Dirnt said.
"We are happy to say that Billie Joe is doing well and we want to thank you all for the outpouring of support."
The 40-year-old singer announced he was to receive treatment after an on-stage outburst at a festival in Las Vegas in September.
The band have also confirmed that they are to pull forward the release of their album Tre from January to December.
The release, one of three new albums from the band this year, will now come out on 11 December.
"We feel bad we have to delay our tour, so to make up for it we want to give our fans the music earlier than we had planned," said drummer Tre Cool.
"If we couldn't be there to play it for you live, the least we could do was give you the next best thing."