Hurricane Sandy halts John Legend and Rita Ora US gigs
29 October 2012

From the section

Music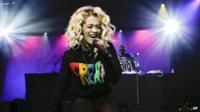 Gigs across New York and the surrounding area have been postponed or cancelled due to the approach of Hurricane Sandy.
John Legend called off his concert at the Barclays Centre in Brooklyn.
Meanwhile, The xx have postponed the last leg of their tour until 2013 affecting fans in Baltimore, the Bronx and Philadelphia.
Rita Ora's performance, also due in Philadelphia, has been cancelled as people prepare for the storm.
She tweeted: "ITS LIKE INDEPENDENCE DAY IN NYC RIGHT NOW....I'm ACTUALLY GETTIN A LITTLE BIT NERVOUS. There no food on the shelves!!!
"THE STORM IS DEFINETLY COMING."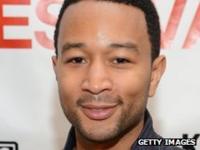 Grimes and Cat Power gigs are also affected.
New York City's public transport system has been shut down and flights into and out of Baltimore, Newark, Washington DC, Boston and Philadelphia have all been suspended.
Keira Knightley was due to attend the New York premiere of Anna Karenina on Tuesday (30 October).
However, that has also been called off due to the expected weather.
Television programmes such as Blue Bloods, Elementary, Gossip Girl and The Carrie Diaries, which film in New York, have all had their outdoor shooting permits temporarily suspended.
Outdoor film shoots have also been put on hold and Broadway theatre performances have been cancelled.
Hurricane Sandy has already passed through the Caribbean, killing 60 people.
Barack Obama has urged Americans to take the threat of the storm seriously.
Maryland, New York, Pennsylvania, Virginia, Washington DC and parts of North Carolina have all declared a state of emergency.
People living in low lying parts of New York City have been encouraged to evacuate after predictions of 11ft storm surges that could cause flooding.