Rapper Lil Wayne released from hospital in the US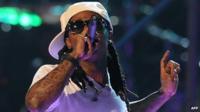 Lil Wayne has been released from hospital after suffering from a severe migraine and dehydration.
The rapper, whose real name is Dwayne Michael Carter Junior, thanked fans who prayed for him while his management team say he's on "mandated rest".
The Blueprint Group say after his treatment he will soon be able to return to work.
They added that the New Orleans-based rapper appreciates his fans' support and love.
Lil Wayne tweeted: "Thanx for all the prayers! I am good."
Emergency landing
Its thought he suffered the problems while he was en route to Los Angeles from Texas, where he had been hospitalized earlier in the week.
Some reports suggest the rapper's private jet was forced to take an emergency landing when it became clear he was unwell.
The rapper is now at home resting after advice from doctors not to travel.
Its not known how his health issues will affect a court case he's involved in over a documentary about his life and the music rights used in it.
The 30-year-old multi platinum performer is working on a follow-up to last year's album Tha Carter IV.